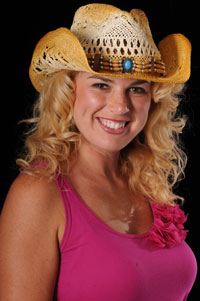 "My life experiences are chronicled in a musical journal that I choose to share with the world."Singer/songwriter Irene Rose Smith is an 8th generation South Carolinian who cherishes her southern roots and writes songs that honor them. Her music is a soundtrack of the south as she wistfully sings about family, small towns, sweet tea, grits and God. At 17, a family friend gave her a classical guitar. Though she had never played before, two days later she had written her first song and hasn't looked back since.
When Charleston Southern University hosted a campus version of American Idol, Irene Rose won twice. She was a top finalist for a radio station talent search and has won two songwriting competitions. Her success earned her placements in private showcases for both America's Got Talent and American Idol.
After graduating from CSU, she then studied in Auckland, New Zealand at a creative/performing arts school through Youth With A Mission. She was the songwriter for her team's production "Mirage"that toured throughout New Zealand, Thailand, China, and Hong Kong. The team performed for thousands across Asia in schools, community centers, festivals and even orphanages. In Hong Kong, Irene Rose was featured at the Gateway Global Missions Conference for her original song, "If I Don't Who Will?"

In 2008, Irene Rose recorded her first EP at Awendaw Green and annually plays at the venue's barn jams and festivals. Her song "Blood, Sweat, and Tears," is featured on the South Carolina Songwriter's Guild Gospel CD.
In 2009, Irene Rose and her sister Lydia went on tour to Nashville singing on Broadway including the famous Tootsie's and Bluebird Cafe. "Home to Charleston"was her first song to get radio airplay as well as get featured on TV. Since then, four of her songs have had airplay in San Francisco, Nashville and Charleston. She was selected for a national talent search with Sony record label and is currently represented by three entertainment agencies.
In 2010, Irene Rose completed her second album entitled "How It Ought To Be"available on ITunes at Ocean Industries Studio.
In 2011, Irene Rose started a movement called "Stop Traffic"partnering with Shared Hope International, an organization committed to fight human trafficking. Her songs written from the perspective of sex slaves, have been played on TV and the radio raising awareness and financial support for the issue.
She is currently a professional songwriter in Nashville with a publishing deal through Blue Guitar Music. She writes, sings, and performs while being developed as an artist as well.
She says, "If you have a gift, share it with as many people as humanly possible. I want to write and sing the songs that speak to people's hearts in a language that anyone can understand. These songs are the diary of a small town girl with big time dreams."